How to measure your children's feet
If you are familiar with a particular brand that's great, but if you are unsure of your child's shoe size we have an easy to use, general measurement guide below. Measure your child's feet as per the instructions. When you know the centimetre measurement, you will then be able to see the corresponding shoe size on the chart. The sizes on the chart all take into account the room needed in a pair of new shoes for growth so you do not have to worry about a thing – just follow our simple guide and find your kids shoe size.
Step 1: Draw a straight line down the length of a piece of paper.
Step 2: Place the paper on a hard flat surface alongside a wall. Have the child place their heel against the wall with their longest toe and heel centred on the line. Mark the paper on the line at the tip of longest toe.
Step 3: Measure both feet as they may vary in size.
Step 4: Measure the distance between the end of the paper and the toe mark in centimetres and use the General Sizing Guide below to find your child's shoe size (allowances for foot growth in new shoes have been made in the General Sizing Guide).
Please note: For babies/smaller children it will be more practical to hold the paper up to their foot. In this case make a mark at both heel and toe and measure between the marks for your size reading.
Tips for measuring:

Measure feet at the end of the day when your child's feet are at their largest
Measure in the socks they will wear with their new shoes if appropriate
Measure both feet and fit shoes to the larger foot
It is best to measure your child's foot while they are standing upright
General sizing guide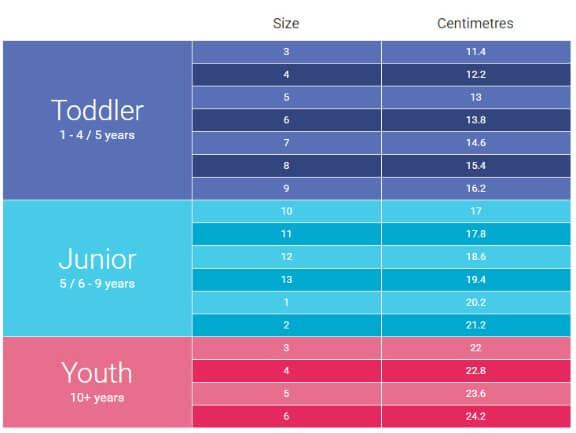 Tips on Shopping for Infant Shoes
Everyone knows that children's feet grow fast, but infant feet grow the fastest of all. In the first year of a child's life their feet will grow to be almost half their adult shoe size.
Other than taking your child to see a podiatrist if foot development seems to be abnormal, the best thing a parent can do for their infant's foot health is to interfere as little as possible. Before a child has started walking, shoes are unnecessary. During the winter months your child can wear soft booties to stay warm, but all foot coverings should be as non-restricting as possible.
After your toddler has begun to walk (usually between 10 and 18 months old), you can introduce him or her to a shoe with a flexible outsole with good traction. This should be worn outdoors only. Inside the house barefoot is still best for toddlers. Just be sure their play area is free of debris that might hurt their little feet. Remember to check your child's feet for blisters and other signs that their shoes no longer fit. Toddler's feet tend to grow a shoe size larger every three months or so feel free to buy shoes slightly larger than what your child needs. 1/2 an inch clearance at the toe provides some growing room.
Tips on Shopping for Junior and Youths Shoes
At four to five years old your child's foot will be double the size it was at birth. Children's shoes can have slightly firmer soles than a toddler's shoe, but there should still be plenty of flexibility. Pronation control is healthy for adult feet. For a kid's feet, a little bit of arch support goes a long way. Even though your child is older, their feet will still be growing rapidly. Between age four and five most children's feet grow at least a half a shoe size every four to five months. You can buy your child's shoes a little large for their feet, but avoid buying shoes that are more than one size too big or the shoe will become a tripping hazard. When choosing between children's shoe uppers, breathable materials like leather are best. Children's feet often sweat a lot.